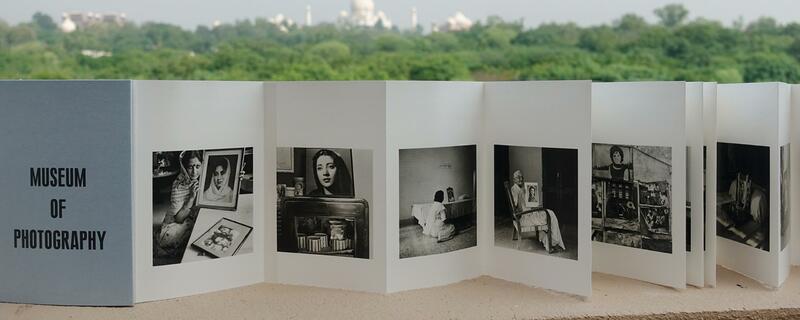 ARTIST TALK: Dayanita Singh, mottagare av 2022 års Hasselbladpris
Welcome to an artist talk with Dayanita Singh, the 2022 Hasselblad Award leaureate. The talk is hosted by Hasselblad Foundation and The Film, Photography and Literary Composition Unit at HDK-Valand. It is open to the public and willbe followed by a Q&A moderated by Doctor Nina Mangalanayagam.
Dayanita Singh lives in New Delhi and is the first laureate from South Asia to receive the Hasselblad Award. On the 15th of October the exhibition Sea of Files will open at the Hasselblad Centre with a special viewing with the artist herself.
Through her extensive photographic oeuvre Dayanita Singh has paved new ways for engaging with images. From a humanist approach to portraiture to a consistent interest in the archive, her wide-spanning photography is innovatively presented in books and installations.
Her unique mobile 'museums' allow her images to be edited, re-sequenced, archived, and displayed, making the viewer an avid participant. With a distinctive sense of materiality, the 'museums' present her photographs as interconnected bodies of work charged with both poetic and narrative possibilities. Making images nurtured by a boundlessly curious intellect, Dayanita Singh's influence on the younger generations of photographers, internationally but especially in India, has been and still is far-reaching.
About Dayanita Singh Dayanita Singh was born in 1961 in New Delhi, India, where she currently lives and works. She studied Visual Communication at the National Institute of Design in Ahmedabad, graduating in 1986. In 1988 she completed her photojournalism and documentary photography studies at the International Center of Photography in New York. On returning to India Singh was asked to photograph the Hijra community and this is when she met Mona Ahmed who became a lifelong friend. Mona Ahmed appears in many of Singhs works – most notably in the early artist book Myself Mona Ahmed 2001, and even after Monas passing she still influence Singhs practice in works such as Mona Montages (Mona in the Archives) 2022.
Through the her books, she experiments with alternate forms of producing and viewing photographs while blurring the boundaries between book, object and exhibition — the photobooks becoming a gallery for the photographs and the exhibitions serving as catalogues for the books. In works like Sent a Letter (2008) Singh explored ways to disseminate her work to a larger audience, designing miniature accordion-style photobooks, such as a calico covered box with seven notebooks inside.
Singh developed her idea of the book-as-exhibition in Museum Bhavan (2017), a collection of nine volumes and text. Museum Bhavan follows earlier projects including the File Room (2010), a requiem to paper in the digital age. File Room contains photographs of archives with endless rows of paper from government officials, Indian courtrooms, and institutions. These archives show the problems of communal memory and remembrance in a country of more than a billion inhabitants. Museum of Chance (2015) elusively unfolds to reveal images by chance, weaving together stories and timelines in a never-ending labyrinth of connections.
By rethinking the different modes in which photography is most traditionally received, Singh has created a primary experience of her work via objects meant to be held, seen, and read.
Over the decades of her career Singh has exhibited internationally in over sixty solo shows and more than a hundred select group exhibitions. She is the recipient of six international awards, and has over 20 published books, notably with a consistent collaboration with the publisher Gerhard Steidl. Photo: Dayanita Singh
Please note that there is a limited number of seats.
---